Bank
Genesis FS Card Services
Issuing
Country
United States
Credit
Recommended
Fair / Good
Pre-qualify today without an impact on your credit score
CARD DETAILS
Pre-qualify today without an impact on your credit score
Keeping your account in good standing may help establish and/or improve your credit
Access your account online or from your mobile device 24/7
Protection from fraud if your card is stolen
Account history is reported to the three major credit bureaus in the U.S.
+ Pros
Reports to all three major credit bureaus.
Easy pre-qualification.
Mobile account access.
- Cons
$5 or 5% of the amount of each transaction, whichever is greater (not to exceed $100)
Application Processing
Fee
See terms
SEE OTHER RECOMMENDED OFFERS
Loans up to $40,000
Fast Response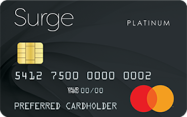 All Credit Types