What is the minimum amount of monthly income allowed by a Card with the most most lenient set of rules regarding monthly income? I'll get paid June 1st, and again June 29th. My total income for June, 2012 will be around $979.00. I just need to borrow $200, but I can't find anyone who will help me. It's not that I have bad credit…I just don't have any credit at all. Currently on S.S.Disability, and I get just under $500 monthly via direct deposit into my Chase checking account. All other bills, and living expenses such a food, and medicines, are taken care of by my family and insurance companies. At any rate, this $500 I get every month is used by me for whatever purposes my discretion deems appropriate. Since I need to begin establishing a line of credit for myself, and because I just turned 49 years old last week, and realize life and time are quickly passing me by, I've come to believe establishing a good credit history for myself is something that I must begin working toward immediately. I need your help and advice…along with $200 credit until I get my first check June 1st. I will be able to pay off the entire loan, plus any fees than may apply at that time. Sincerely, MARK POWELL
Answered on Monday, May 14th, 2012 by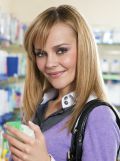 Amy Miller
Taking into account that this is your first credit we can recommend you to see credit card offers in Limited or No Credit Cards section. You can apply online or via the phone (if there's a phone number near/under Apply button).
We should note that all decisions about credit limit are made by bank only. The height of credit limit is mostly depends on credit score and your income. Though you need quite a low credit limit so it is most probable that you will be approved for such or even higher limit. At least if you want you can ask bank for a particular credit limit, but the last who decides is the bank.
As you will be approved for a desirable credit your credit history will start. First of all to have a credit history at all you should use your card, the often you use your card the better for your score. As you use your card you should always remember that you'd better not to exceed your limit. The optimal variant is to spend only 30% of your credit limit. Always make credit payments on time, without delay or it may ruin your effort to build a good credit history. Manage your credit thoroughly from the very beginning and later you will be rewarded.
Other Popular No Credit Card FAQs
We would not recommend you get the Firestone credit card as your first credit card. This card is mostly for consumers with established credit history. But don't worry if you don't have a credit history. There are a lot of cards for limited or no credit. You can also apply for a secured credit card. […]
Continue »
Unfortunately, you do not have so many chances for the Home Depot credit card if you are completely new to the world of credit and have no established credit history. Instead, think about building your credit with a card designed for that. You can choose one of the credit cards for limited credit to make […]
Continue »

Click the Compare link to compare the checked cards side-by-side at the comparison table.

Credit Card FAQ Categories