Bank
Metropolitan Commercial Bank
Issuing
Country
United States
Rewards
Program
Cash Back
Credit
Recommended
Any Credit
Earn cashback and discounts from top brands with Rewards
CARD DETAILS
Earn cashback and discounts from top brands with Rewards
Get $10 bonus when you sign up for Revolut!
Spend in over 140 currencies at the market exchange rate
Exchange in 30+ fiat currencies up to $1000 per month with no hidden fees
No cost out-of-network ATM withdrawals up to $1,200 per month (third party fees may apply)
100% fee-free ATM withdrawals at more than 55,000 ATMs in our network
Trade Crypto commission free up to $200,000 per month233 $comm_233 = "yes"; ?>,234 $comm_234 = "yes"; ?>
10 zero fee international transfers per month to any bank account
Please note that Revolut is frequently updating its products and features, see the Revolut Terms and Conditions for the latest offerings. $comm_236 = "yes"; ?> $comm_250 = "yes"; ?>
+ Pros
Cashback and discounts from top brands.
No need to wait for a physical card.
No cost ATM withdrawals.237 $comm_237 = "yes"; ?>
Easy global transfers.
Get paid up to 2 days earlier.
Customizable cards, for every customer.
Unlimited free Person to Person (P2P) transfers.
Daily Cash Withdrawal
Limit
$3,000
SEE OTHER RECOMMENDED OFFERS
No Hidden Fees
Great Cash Back!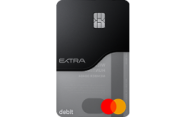 No Credit Check