Is there an unsecured bad credit card without upfront processing fee?
Answered on Wednesday, March 9th, 2011 by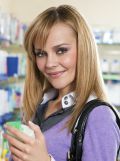 Amy Miller
Please click here to visit our bad credit section at BestCreditOffers.com. Browse through the cards specifically targeted at people with bad credit and look over the terms and conditions for the cards you like best. Hope you will find something you've been looking for.
Other Popular Bad Credit Card FAQs
There are set time frames for how long negative information remains on a credit report. In general, negative information more than seven years old from the date of last activity (ten years for bankruptcies) must be removed from your file. Good information, like your on-time payment of credit card bills or your mortgage, can stay […]
Continue »
A credit card is the easiest way to improve your credit history. But it's better not to apply for a credit card right away the bankruptcy is discharged. It is wise to wait at least six month. If you can't wait, make sure all your reports show discharged bankruptcy before you apply. A secured credit […]
Continue »