Is there an unsecured bad credit card without upfront processing fee?
Answered on Wednesday, March 9th, 2011 by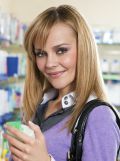 Amy Miller
Please click here to visit our bad credit section at BestCreditOffers.com. Browse through the cards specifically targeted at people with bad credit and look over the terms and conditions for the cards you like best. Hope you will find something you've been looking for.
Other Popular Bad Credit Card FAQs
Consider applying for the Credit One Bank® Credit Card – Online Credit Score Tracking Included card. This is an unsecured credit card with annual fee of $35 or $75, based on your creditworthiness. There is no application fee and no activation fee. Your credit history will be reported to three major credit bureaus monthly and […]
Continue »
Shopping credit cards have high acceptance rate. But to qualify for some of the shopping credit cards you may need a bank account. Also, some issuers of shopping cards charge an application fee. Secured cards also have high approval rate because they require a collateral deposit. The deposit is usually around $200 and will be […]
Continue »
Credit Card FAQ Categories
Our Financial Expert Team

Amy
Miller
While she enjoys writing about money, Amy admits she is not your typical personal finance writer-she is a shopaholic, an impulse/emotional buyer, and unable to save for longer than a few months at a time. But she is trying to improve her finances and shares her experience and tips on learning how to budget money, manage debt, and set goals in her writing for BestCreditOffers.com. She hails from the foggy city of London, but now resides in Salt Lake City.

James
Williams
James Williams is a personal finance expert, trained in journalistic writing. As a freelance writer and professional blogger who works from home, he contributes to many personal finance websites including BestCreditOffers.com.