Best Offers on Money Back Credit Cards
When you use a cash back credit card you get some of your money back! So the more money you spend, the more you save! The cash back credit cards rated here by us - your trusted finance experts team, includes features like top cash back can help you save on gas and groceries and have super cash back when you shop at over 300 retailers. Some credit offers include a gift certificate with your first purchase! Different cards offer different rewards, so scroll down to decide what card meets your needs and requirements. Keep in mind, each cash rebate card has its own rewards and instructions how to maintain them. Compare credit cards rewards terms in this section and apply for the card one that gives most rewards, perks, and savings.
Best Cash Back Credit Cards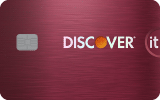 | | |
| --- | --- |
| Intro APR on Bal. Transf. | 0% (14 months) |
| Intro APR on Purchases | 0% (14 months) |
| Regular APR | 10.99% - 22.99%± Variable |
| Annual Fee | $0 |
0% on Purchases and Balance Transfers for 14 months
The new Discover it card is out to change the way people think about credit cards.
Fair…No annual fee. No overlimit fee. No foreign transaction fee & no pay-by-phone fee. No late fee on your first late payment. And we won´t increase your APR for paying late.±
Generous…5% Cashback Bonus on up to $1,500 in purchases at Home Improvement Stores now through June with free and easy sign-up. And 1% cash back on all other purchases.±


Other Cash Back Credit Cards
You can sort items by clicking on the table header
How to compare card offers
1. Check the most attractive cards in the tables below
2. Click the "Compare" link below any card
3. Compare checked cards, select the best one and apply online.
Card Name

Intro APR Purch.
(Intro Period)

APR %

Annual Fee

Cash
Back
MAX.

Apply

0%
(until
May
2014)
12.9% -
20.9% (V)
$0

1%
On
Purchases


$100 bonus after you spend $500 on purchases within the first 3 months.
50% bonus on the cash back you earn every year.
1% cash back on all purchases.

n/a
24.9% (V)
$0

Up to 2%

A card designed to help those new to the U.S. establish credit and earn cash back.
Build credit with responsible use -- plus automatic reporting to the three major credit bureaus.
Get 2% cash back on travel purchases.

0%
(12 billing
cycles)
12.99% or
20.99% (Variable)
$0

Up to 5%

No annual fee.
Earn $50 cash back with your first purchase.
With eligible online purchases through Upromise, you can earn 5% or more cash back as well as an additional 5% when you use your Upromise World MasterCard.

0%
(12 months)26
12.99% -
22.99%26 (Variable)
$026

Up to 5%

$100 cash back after $500 in purchases within the first 3 months of account opening.
0% Intro APR on Balance Transfers and Purchases for 12 months. After that, the APR will be 12.99%-22.99% variable based on your creditworthiness.26
Earn 5% cash back from Citi at Home Depot, Home furnishing stores and home and garden stores between 4/1/13 and 6/30/13, with enrollment.

0%
(until
February
2014)
19.8% (V)
$39

Up to 1%

50% bonus on the cash back you earn every year.
1% cash back on all purchases.
Earn unlimited cash back that doesn´t expire.

0%
(12 billing
cycles)
13.74% -
22.74%
(Variable)
$0

Up to 1%

All 32 teams and NFL Shield card available.
0% Intro APR on balance transfers and purchases for the first 12 months after account opening, after that a variable APR currently 13.74% to 22.74% depending upon your creditworthiness.
One-time bonus of 10,000 points after first use on the card, equal to $100 cash back statement credit.

n/a
19.8% (V)
$0

Up to 1%

Designed to help students build good credit with responsible use.
Access to your monthly credit score, plus an interactive tracking tool to help monitor your credit.
Customizable text and e-mail alerts to help keep you on track.

Calculate how much you
can save on gas
The most rewarding gas credit cards:
Latest Credit Card Rewards News
Cash Back Credit Cards
Cash back credit cards are a great way to earn money back when you make purchases using your credit card. Funds are deposited directly into your bank account or deducted from your outstanding credit card balance, so essentially, the more money you spend, the more you save.

However, there are definitely some things to consider when deciding which cash back credit card is best for you.
First look at how much you spend usingyour credit card and what kinds of purchases do you typically make. If you are a frequent or high-volume annual user, consider a card that pays 1% back on the first $10,000 of purchases. Some cards even offer 1.5% on purchases after that.
For non-frequent card users, opt for a card with low thresholds for earning cash back so that you can in fact reap your rewards when you use your card.
Be careful of cards with annual reward limits. You may be out spending money to rake in the rewards not realizing that you have longer surpassed your limit.
Find a card that gives you cash back on everyday purchases like groceries and gas. If you only get cash back on air travel and you never leave the state then you may have chosen the wrong card.
Ensure that the rebate process is easy and fast. Opt for a card that deposits cash back directly into your bank account. Or choose to have your cash back deducted from your monthly credit card balance.
Probably the easiest to overlook, be sure to redeem points before they expire.
May 08, 2012
There were close to 59 million Americans who traveled to foreign shores in 2011. This is a 3 percent increase compared to the number of people who traveled in the year 2010. This number is sure to ...
May 01, 2012
It's important that one should understand complete details of credit card, including laws to assist you in searching the best available rates. One should require comparing companies, since a lot ...
Other Credit Card Offers
for You