Find Secured Credit Card Offers
What is a secured credit card? A secured credit card belongs to credit card offers that require a security deposit paid upfront. We provide the best secured credit card offers (secured Visa and secured MasterCard credit card offers) for people with bad credit, limited or no credit history.
Best Secured Credit Cards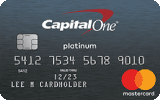 | | |
| --- | --- |
| Intro APR on Bal. Transf. | n/a |
| Intro APR on Purchases | n/a |
| Regular APR | 22.9% (V) |
| Annual Fee | $29 |
No Processing or Application Fees
Get the credit you need with no application or processing fees.
Automatic reporting to the 3 major credit bureaus.
Track credit with access to your credit score and other tools.

Other Secured Credit Cards
You can sort items by clicking on the table header
How to compare card offers
1. Check the most attractive cards in the tables below
2. Click the "Compare" link below any card
3. Compare checked cards, select the best one and apply online.
Card Name

Credit History

APR %

Annual Fee

Activation Fee

Apply

Any
See
website
See
website
See
website

Find the right card offer for you regadless if you have Good Credit, Bad Credit, or No Credit.
Get Response in 60 seconds.
Fast Online Application.

Bad
19.99% (Variable)
$29
$0

Get Approved Fast. Just Click Below to Start the Process!
See if you´re pre-approved in as little as 60 seconds with no harm to your credit score!
Receive Your Card More Quickly with New Expedited Processing Option.

Bad / No
14.25%
$50
see site

Low APR - 14.25% on Purchases and Cash Advances.
No Additional Monthly Fees. Just a Flat $50 Annual Fee.
Charged at account opening and annually upon account anniversary.

Bad / No
9.9%
$35
See website

It´s a real credit card - not a prepaid or debit card, that helps you build or improve your credit score.
When you apply - you´ll also be opening a USAA 2-year Certificate of Deposit (CD), an interest-earning deposit account that has a two-year term and a $250-minimum initial deposit.
Your CD is a security deposit - the money you put in upfront, from $250 to $5,000, is the card´s credit limit.

Calculate the cost of paying off
your current balance
Your current credit card info:
Brief results:
You will pay off your balance in 7 months.
You will spend $179.90 on interest and fees.
Latest Secured Credit Card News
Secured Credit Offers
View the best secured credit card offers from the top credit card companies. Find secured credit cards for individuals, businesses, students, or anyone with limited credit history.

No matter what you are, you can apply online for any credit card from the best secured credit card offers. Examine the new credit card offers right now and apply online! Build credit history with a secured credit card that reports payments to major credit bureaus.

So, among the great choice of online credit card offers you're sure to find the best secured credit card that may help you improve your credit history or start your new credit history if you make on-time minimum payments with all of your creditors and maintain your account balances below the credit limits. Moreover you get access to the best secured credit card offers irrespective of your place of residence.
Thus, if you're looking for the best credit card offers, take advantage of the secured credit card offers for different consumers and apply online!

Our site is great since it allows you to compare the best secured credit card offers and fill out the online credit card application for the secured credit card you prefer. Research secured credit cards to find the one that works best for your particular financial picture.

Searching for the best secured credit card offers, consider the best credit card offers (secured Visa or secured MasterCard) with low annual fee and helpful built-in features provided. We provide you with online tools to compare secured credit card offers and sort out the best secured credit cards meeting your individual preferences and spending habits. The online service makes it perfectly easy to study the best secured credit card offers and apply online for a credit card.
May 08, 2012
There were close to 59 million Americans who traveled to foreign shores in 2011. This is a 3 percent increase compared to the number of people who traveled in the year 2010. This number is sure to ...
May 01, 2012
It's important that one should understand complete details of credit card, including laws to assist you in searching the best available rates. One should require comparing companies, since a lot ...
Other Credit Card Offers
for You