Credit Card Offers for Average Credit Scores
Have you made mistakes in the past and damaged your credit somewhat, but still need the convenience of a credit card? Well, we've recently found some great credit card offers for people with a fair credit history. Whatever the purpose for the credit card you choose, keep in mind - you can get a facelift for your credit history by making timely bill payments and keeping account balances low relative to the credit limit with all creditors. Here, we've found below is the list of the best card offers from leading banks that specialize in issuing credit cards to customers with less than perfect credit history. Scroll down to find the card that meets your needs.
Best Cards for Fair Credit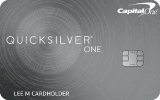 | | |
| --- | --- |
| Intro APR on Bal. Transf. | n/a |
| Intro APR on Purchases | 0% (until November 2014) |
| Regular APR | 22.9% (V) |
| Annual Fee | $39 |
0% intro APR on purchases until November 2014
Earn unlimited 1.5% cash back on every purchase, every day.
No rotating categories and no sign ups needed to earn cash rewards.
Redeem the cash back you earn for any amount, any time.

Other Cards for Fair Credit
You can sort items by clicking on the table header
How to compare card offers
1. Check the most attractive cards in the tables below
2. Click the "Compare" link below any card
3. Compare checked cards, select the best one and apply online.
Card Name

Intro APR Purch.
(Intro Period)

APR %

Annual Fee

Balance Transfers Fee

Apply

See terms
Various Rates
See terms
See terms

Find card offers you may be eligible for without affecting your credit score.
Get matched to features you want like low intro rates, cash back or miles, and more.
See your card matches in less than 60 seconds.

n/a
17.90% -
23.90% (V)
$35-$75
n/a

1% back on all gas purchases.
No limit to the gas rewards you can earn.
Rewards post to your account automatically each month.

n/a
24.9% (V)
$0 intro for first year;
$19 after that
$0

Start with no annual fee for the first year; $19 after that.
Get access to a higher credit line after making your first 5 monthly payments on time.
Fraud coverage if your card is lost or stolen.

n/a
24.99% (Variable)
$0
4%
($10 min)

No annual fee.
Earn 2 points per $1 on gas, grocery, and utility purchases and 1 point per $1 everywhere else.
Use the points you earn like cash to pay for almost any purchases you´ve made.

0%
(until
November
2014)
22.9% (V)
$39
$0

0% intro APR on purchases until November 2014.
$0 Fraud Liability if your card is lost or stolen.
Enjoy MasterCard benefits, including 24-hour roadside assistance and extended warranty protection.

n/a
19.8% (V)
$0
$0

Designed to help students build good credit with responsible use.
Access to your monthly credit score, plus an interactive tracking tool to help monitor your credit.
Customizable text and e-mail alerts to help keep you on track.

n/a
0.00%
See terms
See terms

Must have Active Debit Card or Credit Card to qualify.
$500 Credit Limit.
No Credit Check.

Calculate the cost of paying off
your current balance
Your current credit card info:
Brief results:
You will pay off your balance in 7 months.
You will spend $179.90 on interest and fees.
Latest Fair Credit Card News
Fair Credit Card Offers
People with fair credit may experience difficulty getting approved for credit cards with top of the line rates. On the other hand, a fair credit card holder should not be subject to the same harsh terms and high fees as someone with bad credit. Get out of the grey area and use these tips to reestablish your credit rating and enjoy the convenience of swiping plastic!
Rebuild your credit. There are in fact great credit card options for people with less than perfect credit history. These cards can help you rebuild your credit history by making timely bill payments and keeping account balances low relative to the credit limit.
Get a co-signer. A co-signer will increase your chances of approval because it gives you further financial backing. The point is to compensate for your deficient credit score, so find someone with a stable job and good credit history.
Apply for a prepaid card. The easiest way to build up credit and reap the benefits of a credit card is to apply for a prepaid card. These cards require no credit rating and can be used just like a regular credit card for online purchases and bill payments.
The best part is that you do not have to worry about late fees or exceeding your credit limit. But before you opt for a prepaid card be sure to confirm that your credit will in fact be reported using this card because some cards do not count toward building your credit.
Be realistic about your expectations. It is possible that your application may be denied or that you will pay a higher interest rate than an applicant with a high credit score.
Reap the benefits. Even with fair credit, cardholders can enjoy incentives like cash back offers, 0% introductory APR, low or no annual fees, low balance transfer fees, and built-in features to help card holders establish good credit like cash back on purchases when monthly bills are paid on time.
So do not let your less than stellar credit history dissuade you from applying for a credit card. Apply today to start rebuilding your score and enjoying the rewards!
November 01, 2013
One of the best things about using credit cards is getting cash back. Most cash back credit cards give a minimum of 1% cash back on all purchases, with 5% back in rotating categories each quarter. ...
May 01, 2012
It's important that one should understand complete details of credit card, including laws to assist you in searching the best available rates. One should require comparing companies, since a lot ...
Other Credit Card Offers
for You