Top Visa® Credit Card Offers For You
advertiser disclosure
BestCreditOffers.com is an independent, advertising-supported website which receives compensation from the credit card issuers and companies whose offers appear on the site. Compensation may impact how and where products appear on our site, including, for example, the order in which they may appear on the site pages. BestCreditOffers.com does not review or list all available financial or credit offers.
Visa credit cards are used by people around the world and accepted in more than 150 countries! These widely-popular cards are renowned for their convenience and reliability. No matter what your credit history: good, bad or no credit; no matter what your needs: low fees, balance transfers, reestablishing your credit score, our financial team has a Visa credit card that´s perfect for you! Get a prepaid debit card no matter what your credit history or enjoy free travel accident insurance worldwide with a Signature Visa. Scroll down and apply online for guaranteed approval!

BEST for FAIR/BAD CREDIT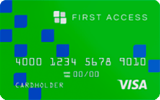 Click the Compare link to compare the checked cards side-by-side at the comparison table.
Get the security and convenience of a full-feature, unsecured VISA® Credit Card - accepted at millions of merchant and ATM locations nationwide and online
Reporting monthly to all three major credit reporting agencies
Perfect credit not required for approval; we may approve you when others won't

Other Visa® Credit Cards
You can sort items by clicking on the table header
How to compare card offers
1. Check the most attractive cards in the tables below
2. Click the "Compare" link below any card
3. Compare checked cards, select the best one and apply online.
Card Name

Credit History

Intro APR Purch.
(Intro Period)

Regular APR

Annual Fee

Apply

Click the Compare link to compare the checked cards side-by-side at the comparison table.

Bad
n/a
0.00%
See Terms

Must have Active Debit Card or Credit Card to qualify.
$500 Credit Limit.
No Credit Check.
No Employment Check.
Reports to a Major Credit Bureau.
Fast Online Application.
Bad Credit accepted.

Check off the cards you want to compare. Then click the Compare link to go to the comparison table.

Bad
n/a
See Terms
$0

No Annual Fee*.
No Over Limit Fee*.
Instant Response (Delays may occur depending on application data provided).
Apply for Fingerhut Credit today*. Fill out our easy online application.
Low Monthly Payments*.
Choose From Over 450,000 items.
Shop Great Brands at Fingerhut.com.
Budget Friendly Payments* with Fingerhut Credit!
Get the Credit You Deserve*.
We just love saying "YES!"
*SEE Fingerhut.com Site for Terms & Conditions.

Click the Compare link to compare the checked cards side-by-side at the comparison table.

Any
See terms
See terms
See terms

0% Intro APR.
No Annual Fee.
Great Rewards Programs.

Get Your CARD MATCH
Check if you're pre-qualified for credit cards
It takes less than 1 minute
Will Not Affect Your Credit Score
This service finds the credit cards which suit your situation best. However, only card issuers decide whether you'll be approved or not for a credit card.
Visa® Credit Card Offers
Most people do not realize this, but Visa does not actually issue credit cards, extend credit or set rates and fees for consumers. In actuality, the company provides financial institutions with Visa-branded payment products used to offer credit, debit, prepaid, and cash-access programs to customers.

Without a doubt, Visa is arguably the most recognized credit card available. The Nilson Report reported that Visa held a 38.3% market share of the credit card marketplace and 60.7% of the debit card marketplace in U.S. in 2008. In 2009, Visa´s global network, VisaNet, was responsible for processing 62 billion transactions with a total profit of $4.4 trillion.

For its universal character Visa credit cards are accepted in more than 150 countries. Card holders can also easily access using their credit card. Visas are widely-popular and renowned for their convenience and reliability. Visa offers cards for people of all credit levels. One of popular Visa cards promotion strategies, for those with excellent credit, has been enticing consumers with free travel services and travel accident insurance worldwide. Additionally, for those with Average or Limited credit, previous offers have included zero annual fee.

No matter what your needs or credit history, Visa is sure to have a card that is right for you.




More News >>