Posts Tagged 'Shopping'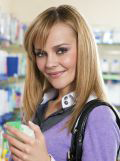 Do you have a million questions jumbled up in your mind regarding credit cards and the credit card application process? Don't worry, you are not alone! Our site has been designed to be simple to use and navigate in order to eliminate any potential hassles and frustrations surrounding the credit card application process. Our experts have already taken it upon themselves to thoroughly analyze and evaluate all of the popular credit card available on the market today and have laid them out in an easy-to-understand format, touting the best features of each.
Thank you!
Your question has been successfully sent!
There are a lot of cards that will give you rewards when you shop at retail stores. Usually retail stores try to offer you a co-branded card with a discount on this brand's purchases, some minor rewards or special financing. However, you pay for these questionable benefits with very high APR and fees. And those […]
Continue »
Generally, you are able to build credit using a credit card if it reports to a major bureau. Some of the store cards report to credit bureaus, but it's better to check this before applying for a card. And sometimes the issuers report only to one bureau, which is not enough for you. If you […]
Continue »
If you use a shopping card of one particular retailer, it's usually linked to this retailer and it's impossible to use this card outside. However, if it's a Mastercard or Visa card, then you can use it anywhere Mastercard and Visa are accepted. There aren't many of such cards, so you need to search for […]
Continue »
Yes, you can get a credit card with a 0% intro APR and with rewards. Look at the regular credit cards that are offered by major banks and are not co-branded with any retailer. An example of such a card can be the Discover it® Miles credit card. The card has a 14-months 0% intro APR on […]
Continue »
Every single retailer would like to make you shop there and not at the other retailer. Various tricks are made up to make you return more and more and buy more. That's how co-branded credit cards appeared. They entice you with special offers but in exchange they tie you to this retailer only. The advantages […]
Continue »
With excellent credit, you can apply for any credit card that offers 0% introductory APR on purchases. For example, the Discover it® Miles credit card comes with a 14-month 0% intro APR on purchases (when the introductory interest rate is over, the ongoing APR will apply). The card has no annual fee and gives miles rewards for […]
Continue »
You can apply for a regular credit card that is not co-branded with any retailer. There are a lot of credit cards with different rewards programs. For example, you may like the Discover it® Miles credit card as it allows redemptions for cash or travel statement credits. Cash redemptions are most convenient, since cash can be used […]
Continue »

Check off the cards you want to compare. Then click the Compare link to go to the comparison table.
Credit Card FAQ Categories