Card
Network
Horizon Card Services
Bank
Horizon Card Services
Issuing
Country
United States
Card
Type
Unsecured Store Card
Use exclusively at the Horizon Outlet (thehorizonoutlet.com).
CARD DETAILS
Must have Active Debit Card or Credit Card to qualify.
Instant $500 Credit Line.
No Credit Check.
No Employment Check.
Reports to a Major Credit Bureau.
Fast Online Application.
Bad Credit accepted.
+ Pros
Reports to a major credit bureau.
No credit check.
Unsecured line of credit.
Good for bad credit.
- Cons
Must have Active Debit Card or Credit Card to qualify.
Can be used exclusively at thehorizonoutlet.com.
Activation Processing
Fee
See Terms
Expert's Horizon Gold Review
The Horizon Gold is an unsecured credit line for shopping at the Horizon Outlet website. It is not a MasterCard or Visa credit card nor is it a debit card. This card gives you an opportunity to get a credit line with various benefits and privileges.

By applying for this card you are opening an online account and get a Horizon Card Services membership. Through your account you can shop online without any down payment requirements or check your balance and expenses. Also you receive additional privileges such as My Privacy Protection, My Road Assistance and some others. Besides you can build a credit history as your credit performance is reported to a major credit bureau - Equifax.

Fill out the online application form and apply for your Horizon Gold account without credit or employment check.
SEE OTHER RECOMMENDED OFFERS
Initial Credit Limit of $500
Fast Response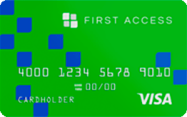 No Annual Fee