Issuing
Country
United States
Rewards
Program
Cash Back
Credit
Recommended
Limited/No Credit
Earn 5% Cash Back on purchases, up to $100 per reward year
CARD DETAILS
Earn 5% Cash Back on purchases, up to $100 per reward year
No overdraft fees, ever
No credit check to get a card
Get paid up to 2 days earlier with free direct deposit (subject to your payment provider's process and timing)
Track your money 24/7 with our mobile app. Deposit checks with your smartphone
Use it everywhere Visa debit cards are accepted in the U.S.
+ Pros
Free direct deposit.
Cash back rewards.
No credit check.
- Cons
Daily Cash Withdrawal
Limit
See terms
SEE OTHER RECOMMENDED OFFERS
No Fee Direct Deposit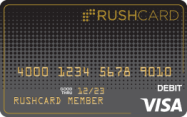 No Credit Check
Payback Rewards