Looking for Prepaid Card Offers by the Bancorp Bank?
The Bancorp Bank is a branchless bank and subsidiary of The Bancorp, Inc. It is one of the leaders in the country in providing private-label banking and technology solutions for non-bank companies. The bank offers full array of financial services and products. The products of The Bancorp Bank are FDIC-insured.
The Bancorp Bank is one of the top five issuers of prepaid cards in America. The bank works with both Visa and MasterCard, so you can use its card in most countries and everywhere you see Visa or MasterCard logo. View the prepaid debit cards below and apply online.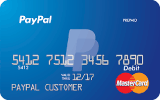 | | |
| --- | --- |
| Activation Fee | see site |
| Guaranteed Approval | No |
| Credit Check | No |
| Build Credit | No |
No Credit Check, Overdraft Fees or Interest Charges.
Free direct deposit - get your paychecks & tax refund faster when you direct deposit to your PayPal Prepaid Card.
Instantly transfer money from your PayPal Account to your PayPal Prepaid MasterCard!
Get account alerts on your mobile device or download our App to check your balance and see recent transactions.


You can sort items by clicking on the table header
How to compare card offers
1. Check the most attractive cards in the tables below
2. Click the "Compare" link below any card
3. Compare checked cards, select the best one and apply online.
Card Name

Activation Fee

Guaranteed Approval

Credit Check

Build Credit

Apply

$0
Yes!
No
No

Perfect for Direct Deposit Tax Refund - Get your Tax Refund Fast without a traditional bank account.
This is not a credit card. You need to deposit your own money before using the card.
100% Guaranteed Approval - upon successful ID verification.

$4.95
Yes!
No
No

$0 Monthly Fee. Perfect for Occasional Usage.
No Minimum Balance. No Credit Check. No Overdraft Fee.
Free Direct Deposit and Online Bill Payment.

see site
Yes!
No
No

Instantly fund employee purchases with your business prepaid card.
Gain 24/7 control over where and how much employees spend.
Save money - no surprise interest charges or overdraft fees.

Latest Credit Card Issuers News
Bancorp Bank Prepaid Card Offers
The Bancorp Bank issues prepaid debit cards for customers and businesses with bad credit history. As you are applying the bank doesn`t check your credit history and doesn`t require any bank account. Also to get a prepaid card you don`t need a minimum balance.

The Bancorp Bank provides with convenient and secure services. Quick and safe online access will help you spend less time managing your finances and more time doing what you want. By paying bills through online Bill Pay service you will save not only the time but money. And through convenient, fast and free direct deposit you can as pay as get paid.
Along with experienced customer services The Bancorp Bank offers different reward programs. You can earn point rewards, cash backs and various perks on your purchases. And for businesses the bank gives opportunity to control all business spendings. Now you can know where and how much your employees spend.

Some Bancorp Bank prepaid cards can help you to build a credit. So, read attentively terms and conditions before you apply for a card.
November 01, 2013
One of the best things about using credit cards is getting cash back. Most cash back credit cards give a minimum of 1% cash back on all purchases, with 5% back in rotating categories each quarter. ...
May 01, 2012
It's important that one should understand complete details of credit card, including laws to assist you in searching the best available rates. One should require comparing companies, since a lot ...
Other Credit Card Offers
for You