I want to get a prepaid card, but heard they are not always convenient for some purchases like restaurants or gas stations. Please advise.
Answered on Wednesday, August 4th, 2010 by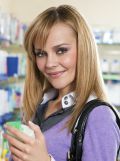 Amy Miller
While prepaid debit cards are convenient for making in-person or online transactions, and are widely accepted, there are a couple things you should keep in mind while using your card. Gas Stations, Hotels and Restaurants may put a hold on your prepaid card for the amount equaling your estimated bill. This amount may remain unavailable for couple days; you need to make sure you have enough funds if you plan other transactions. Or to avoid a hold on your account at a gas station you can choose to pay inside for the exact amount.
Other Popular Prepaid & Debit Card FAQs
Almost all prepaid cards allow ATM withdrawals abroad, the only difference is fees. For example, consider the American Express® Prepaid Card. The card offers one free ATM withdrawal per month, and you will be charged $2.00 per ATM withdrawal thereafter. Also this card does not have monthly or annual fee. You can compare this card [...]
Continue »
Most prepaid cards do not report to the credit bureaus as these are not about extending credit to you. Prepaid cards are not credit cards, thus they do not help your credit. But these are a good alternative to carrying cash. If you are interested in prepaid cards, browse through the cards here and apply [...]
Continue »
Credit Card FAQ Categories
Our Financial Expert Team

Amy
Miller
While she enjoys writing about money, Amy admits she is not your typical personal finance writer-she is a shopaholic, an impulse/emotional buyer, and unable to save for longer than a few months at a time. But she is trying to improve her finances and shares her experience and tips on learning how to budget money, manage debt, and set goals in her writing for BestCreditOffers.com. She hails from the foggy city of London, but now resides in Salt Lake City.

James
Williams
James Williams is a personal finance expert, trained in journalistic writing. As a freelance writer and professional blogger who works from home, he contributes to many personal finance websites including BestCreditOffers.com.