How do i CHECK THE STATUS OF MY CREDIT CARD APPLICATION? i APPLIED FOR A MASTERCARD GOLD YESTERDAY, IT SAID i WAS APPROVED MY CHILD UNPLUGGED THE COMPUTER AT THAT EXACT MOMENT, GO FIGURE, AND NOW i DONT KNOW THE DETAILS OF WHAT WAS SAID OR IF ANY FURTHER STEPS NEED BE TAKEN.
Answered on Sunday, June 19th, 2011 by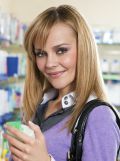 Amy Miller
You can check the status of your credit card application online, just log in to your credit card issuer's web site. Search for and press on the "application status" or "new applications" tab, give the information required to gain access, say SSN and mailing ZIP code, and view the current status of your credit card application.
You can also call your credit card customer service. In this case don't forget to keep the information about your credit card application handy.
If you are denied, your credit card issuer will notify you in writing. And if you are approved, you will get your credit card in the mail in a couple of weeks.
Other Popular Mastercard Credit Card FAQs
Unfortunately you do not write the name of your card so we can only recommend you to visit your credit card issuer official website or call them directly at the number on the back of your credit card. Almost every issuer has a section where you can create\login an online account on their website. For […]
Continue »
Credit cards do have an expiration date and that`s because of magnetic stripes. Magnetic stripes can`t work forever, they just wear out. And what is more, that1s a good reason for a credit card company to stay in touch with you as a credit cardholder.
Continue »

Credit Card FAQ Categories
Our Financial Expert Team

Amy
Miller
While she enjoys writing about money, Amy admits she is not your typical personal finance writer-she is a shopaholic, an impulse/emotional buyer, and unable to save for longer than a few months at a time. But she is trying to improve her finances and shares her experience and tips on learning how to budget money, manage debt, and set goals in her writing for BestCreditOffers.com. She hails from the foggy city of London, but now resides in Salt Lake City.

James
Williams
James Williams is a personal finance expert, trained in journalistic writing. As a freelance writer and professional blogger who works from home, he contributes to many personal finance websites including BestCreditOffers.com.